Matboard and Glazing Prices
Our prices are based on United Inches, which is the combined total of one length plus one width of the frame size.
TO FIGURE THE PRICE OF A FRAME KIT:
1) Determine the frame size you need.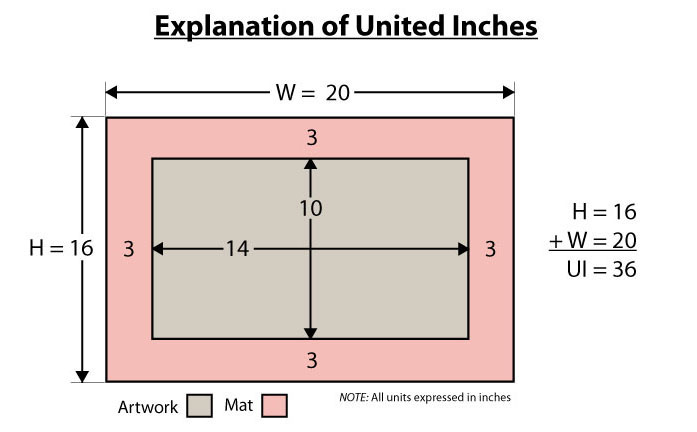 Determine the exact mat opening. Be sure to overlap the edges of the artwork by at least 1/4" for smaller pieces and up to 1/2" for larger ones (example shows a 10 x 14 mat opening).


Add the width of the mat on each side. For a 3" mat, add a total of 6 inches to each dimension.
2) Now you can determine the United Inches by adding one length plus one width. Example: a 16 x 20" frame = 16 plus 20 = 36 United Inches.
3) Find the United Inches on the price chart and read across, adding the costs of either a single or double mat; the acid free backing; and your choice of glazing.
4) Add the cost of the frame of your choice from the moulding price chart based on united inches and the moulding's Series Letter Code, and you are done!
Remember- you can always call us and we will help you!
View the PDF version of the Matboard and Glazings Price Chart
Prices and terms subject to change without notice.
Moulding Prices
View the PDF version of the Mouldings Price Chart